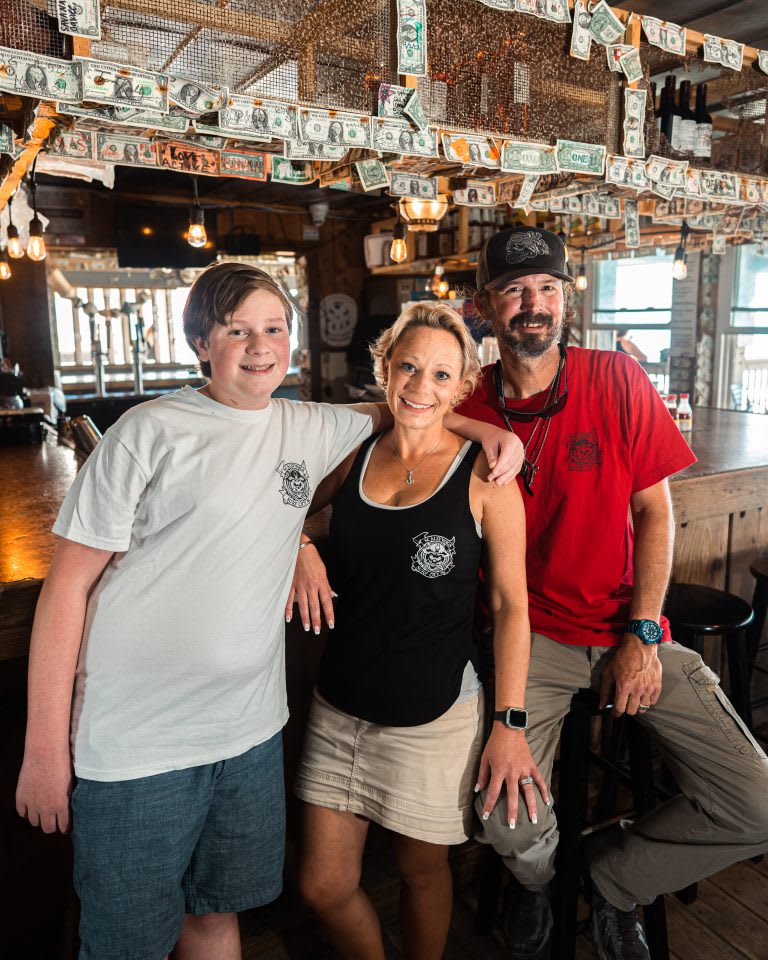 Matt & Jill Wiles, with their son Tyler at Buddy's Crab House & Oyster Bar. Located in Surf City, NC
Family & First Responders – By Pat Fontana
An old military barracks and a former motel office are now two of the most family friendly places to visit on Topsail Island. These establishments now offer fun, food, drinks, and an opportunity to support first responders in the area, as they carry on a family tradition.
Two Locations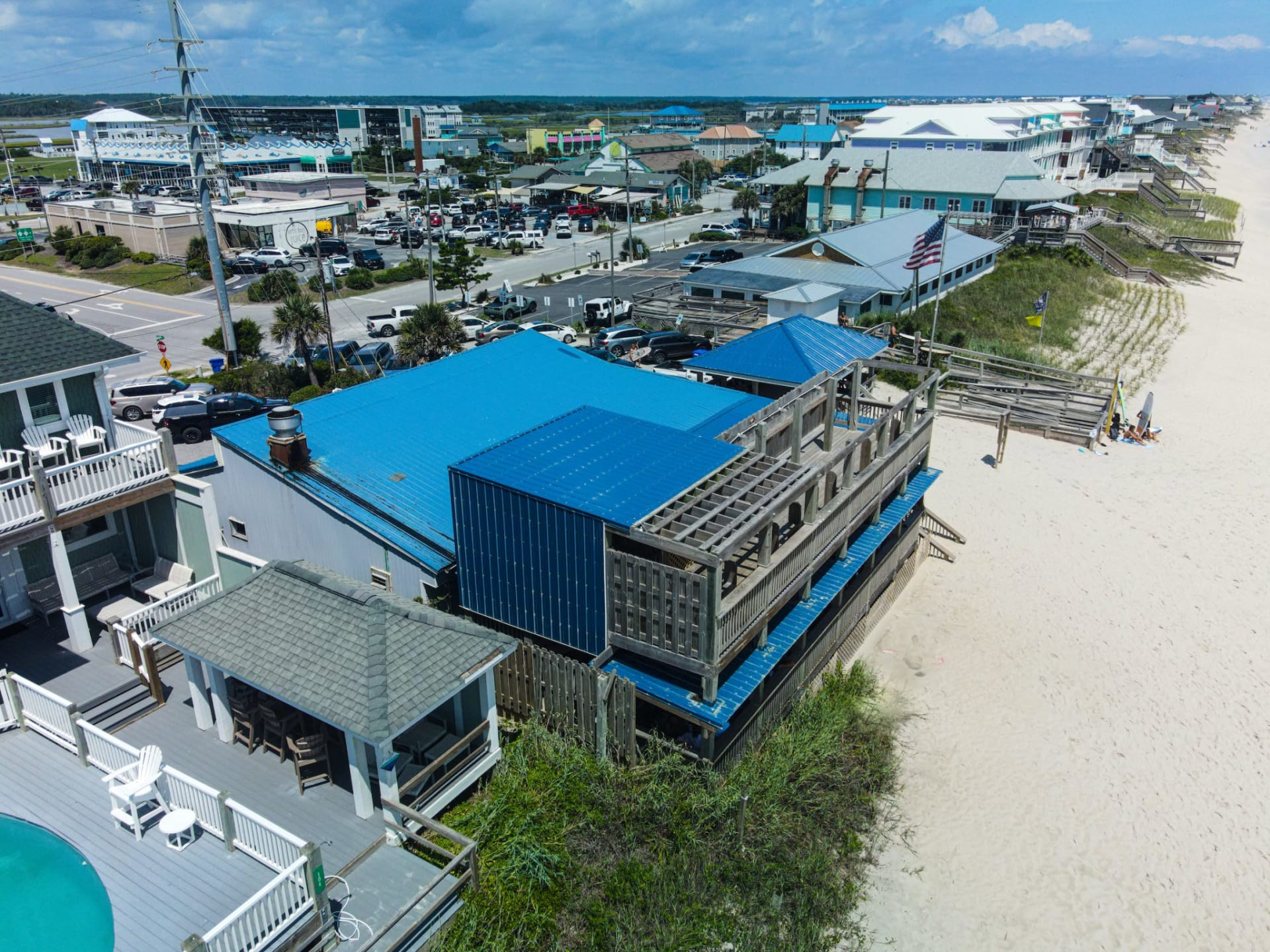 Buddy's on the beach and Scallywags just two blocks North (white building with blue roof)
Matt and Jill Wiles are co-owners of Buddy's Crab House & Oyster Bar and Scallywags, just down the street from each other in Surf City. Their focus is on providing a great place to have fun, enjoy some food and drinks in a family-friendly atmosphere, listen to some local music, and raise money for the Surf City Firefighters Auxiliary.
The family tradition started in 1991 when Matt's father, Buddy, opened the first location in Wrightsville Beach. As Matt tells the story, Buddy had been in the construction business for a long time in a number of different cities when he built a house in Wrightsville. He "got to the point where he didn't want to do construction any longer," Matt says. Buddy had a good friend who had a restaurant in Wrightsville Beach and that friend was "tired of being in the restaurant business."
The friend sold the restaurant to Buddy in 1991 and Buddy's opened to a huge success. He "created an environment for people to relax in their flip flops and t-shirts." Then Buddy decided to open a second location in Surf City, in 1998.
He found a spot that had been sitting vacant from hurricane Fran and "had the vision for what the potential could be at that location." The building had long before been a military barracks and had been in the hands of a few different owners since the 1950s. The most recent occupant was the One Eyed Parrot, which had to shut down after being damaged by that major storm of 1996.
Buddy's opened there on Easter weekend in 1998 and, Matt says, "has been great ever since." Matt adds that "when we remodeled it, Dad had bought some of the logs that had sunk in the Cape Fear River in the early 1900s. He cleaned them and put them on the wall." His father's dream was "to open a Buddy's every so many miles all the way down to Key Largo, so he could go by boat to check on them."
They sold the original Wrightsville Beach Buddy's in 2016, after 25 years in business, because of a change in the property around their site. Matt explains that "big developers came in and wanted to buy the property" and they eventually reached an agreement for the sale. It was "hard to do" but made sense with the evolving environment in that area.
Matt says he has been asked what his dad was like and he tells people to imagine if "Ernest Hemingway, Jimmy Buffett, Albert Einstein, and Rodney Dangerfield had a kid." Sadly, Buddy passed away in 2016 at the age of 63 after a bout with cancer.
Ernest Hemingway, Jimmy Buffett, Albert Einstein, and Rodney Dangerfield had a kid.
Matt Wiles, describing his father Buddy.
The family tradition will live on, though, with Matt's youngest son. Tyler wants to go to culinary school and will probably get involved in Buddy's as a chef when he completes his training. Matt says they are definitely "going to keep Buddy's in the family."
Scallywags Is Born
In March 2022, the family expanded their restaurant business with the opening of Scallywags. With a slightly different atmosphere and an emphasis on giving back to first responders, Scallywags embodies the essence of firemen and pirates.
Matt explains that their oldest son, Alex, "had always been infatuated with fire trucks, since he was a kid." He says that when Alex was old enough, he took an aptitude test and "scored really high on being a first responder." Alex is now a full-time fireman in Surf City.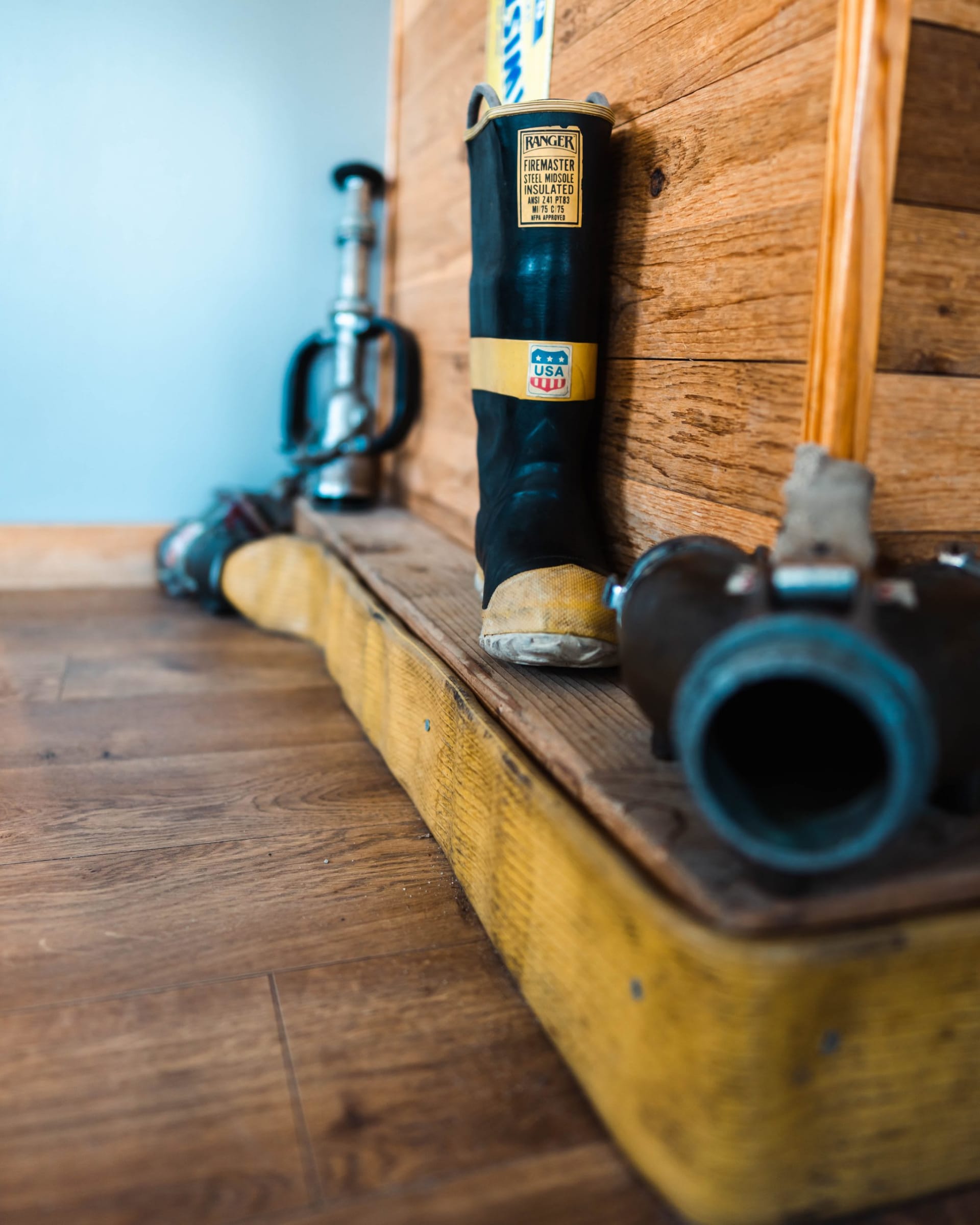 Cool decor representing various first responders is scattered throughout Scallywags.
He says that when the opportunity came up to open Scallywags, the family discussed "how we can take that and incorporate pirates." He adds that they have a lot of items that were donated from the fire department and from retired firemen. One day, he says, the fire chief "came in with a whole box of patches that he had collected through the years." Those patches, along with the many others that continue to be donated, line the walls of Scallywags.
Most importantly, Matt gives credit to Jill for organizing bands and benefits to give back to the first responders. A benefit event in July 2022, designed to raise funds for Bob Phiel, a career Surf City firefighter diagnosed with Stage IV lymphoma, raised over $10,000.
Giving Back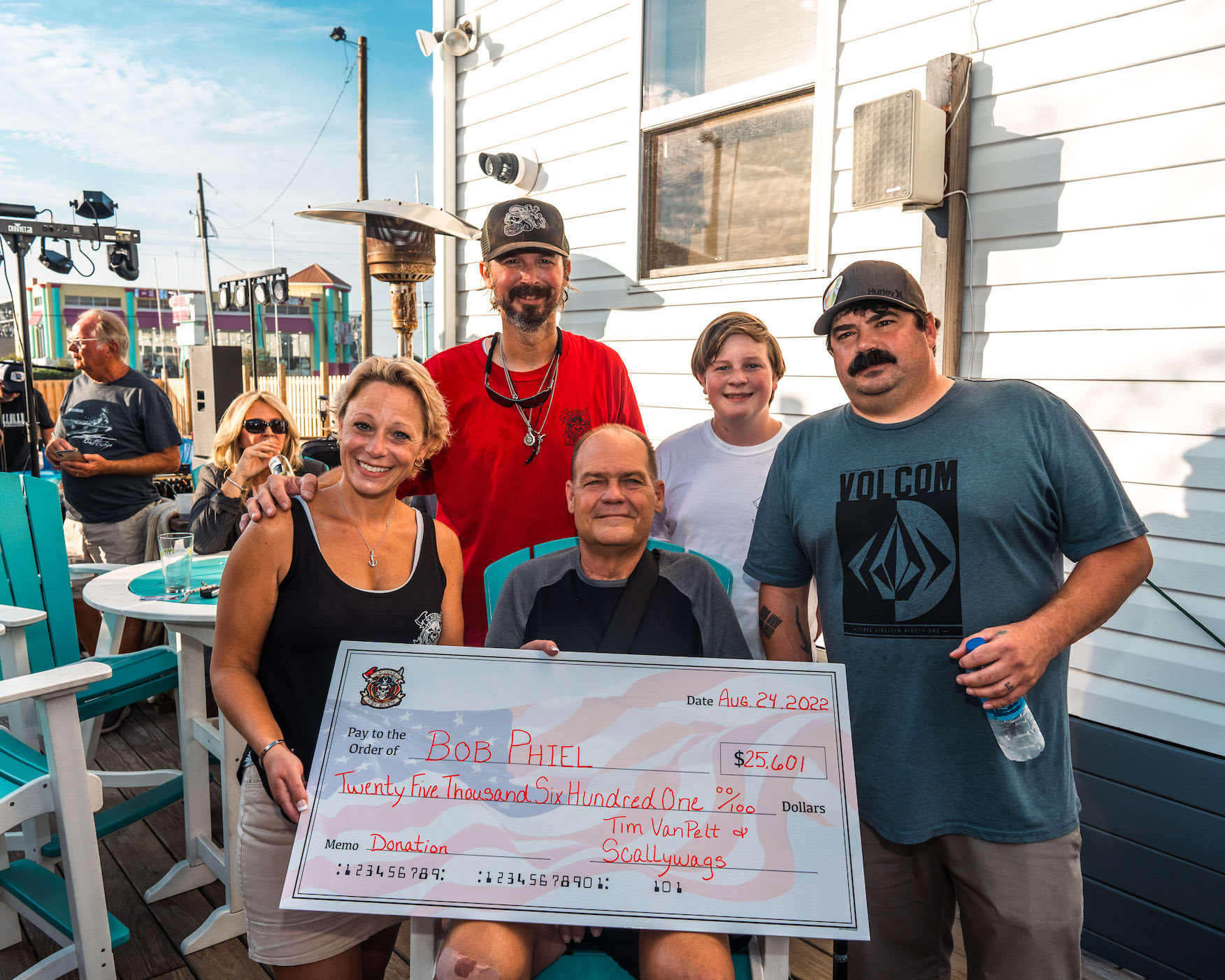 At the Grand Opening Ribbon Cutting event held Aug. 24, 2022, $25,000 raised for Bob Phiel, by Scallywags, Buddys, and a Go Fund Me Page, were presented. Demonstrating just how generous and caring this community is. Pictured, Jill, Matt & Tyler Wiles, Bob Phiel, Surf City Fireman Tim VanPelt.
Giving back is easy and fun at Scallywags. They have a sand lot in back so everyone can sit in their beach chairs and enjoy the concerts. They have corn hole and volleyball and will soon begin movie night with "old school movies." Jill is planning for movies such as Top Gun and Pirates of the Caribbean.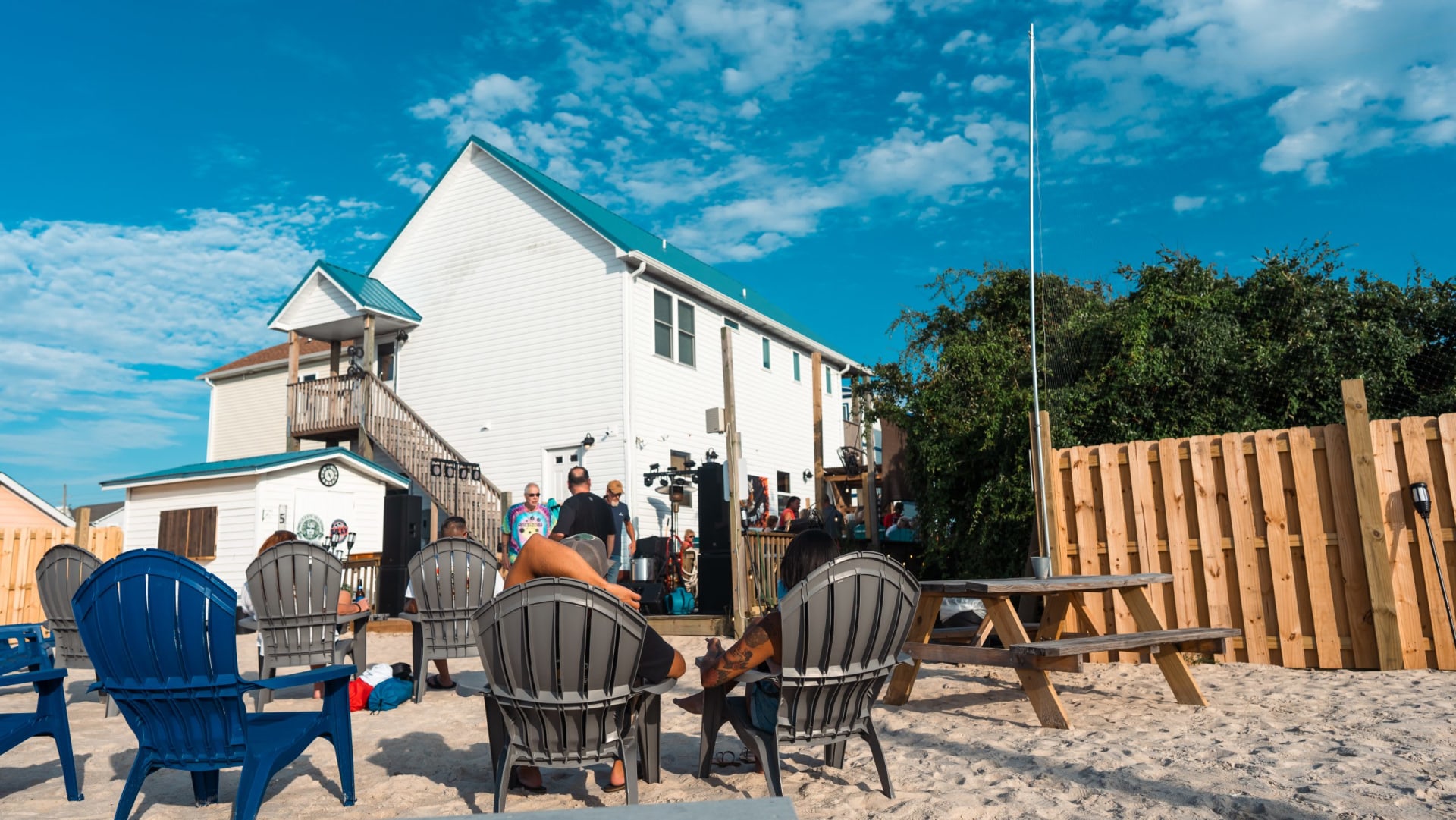 Sand lot with beach chairs, corn hole, and volleyball, a family friendly spot to hang out and watch a show.
Scallywags is the "perfect place for special events," Matt says. He emphasizes that they are kid friendly. He says, "we want the community to know that we are a family friendly establishment." They are laid back and "don't tolerate shenanigans." He adds that they "just want people to come in, have some food, hear some music, and not have to worry about anything." Food trailers come on site two to three times a week and Scallywags recently purchased its own food trailer.
Supporting Local First Responders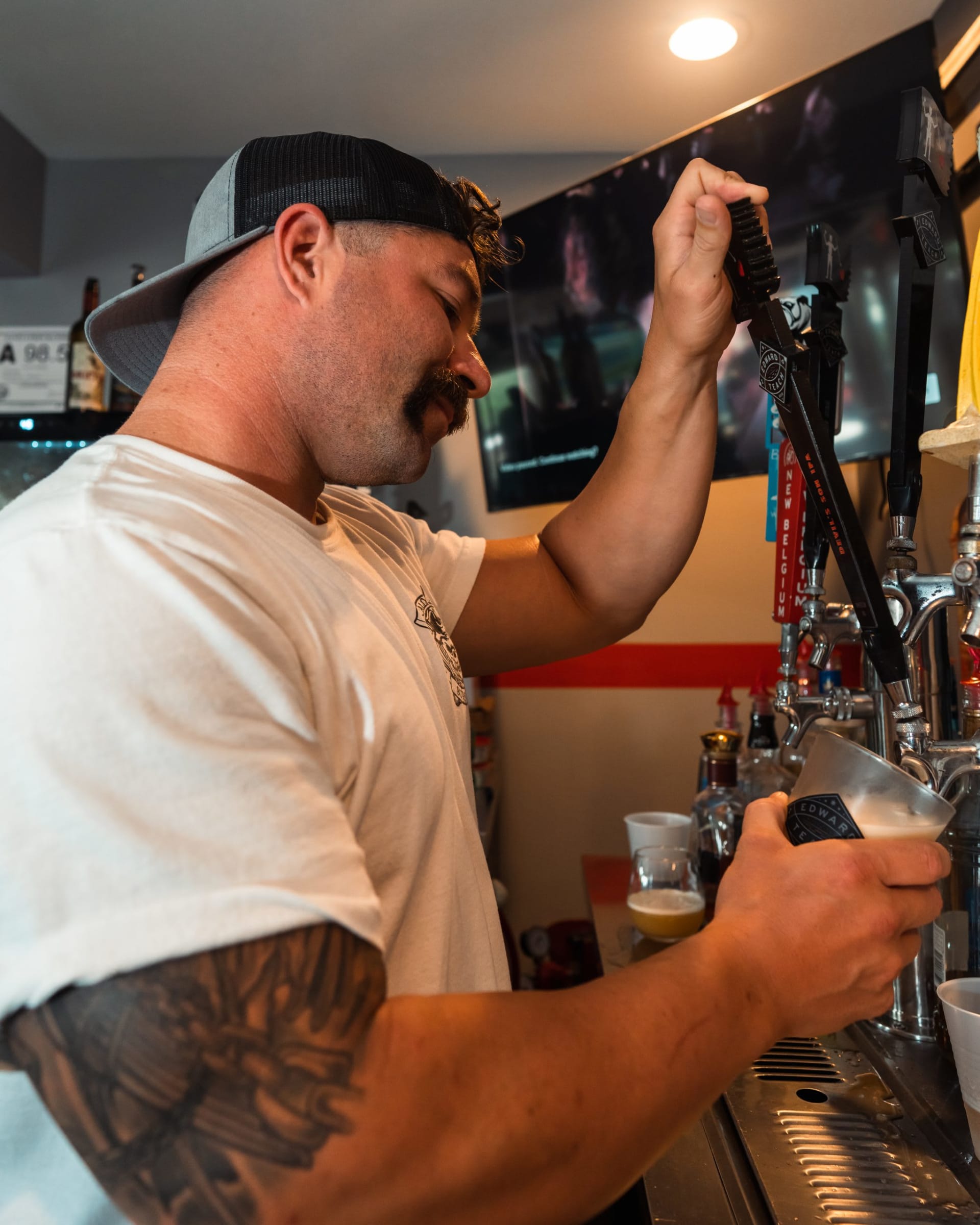 All proceeds from the sales of t-shirts and hats at Scallywags go directly to the Surf City Auxiliary "so they can purchase things they need that are not in their budget." They have donated to other causes and events as well, such as Paddle for the Troops.
The theme of family and first responders also moves through their employees and their customers, at both locations. At Scallywags, all of the employees are first responders or military and there are first responders who work at Buddy's as well. Matt says of his team that "everybody loves working there. We're like one big family."
Matt adds that "we have a great following. Our customers are such good people. They're always looking out for us and doing any little thing to help." The customers are part of their family also. Matt is overwhelmed with gratitude and appreciation for everyone involved in Buddy's and Scallywags. He says, "I've never lived anywhere like this." The feeling of family and community is "across the board here on the island."
Neighbors Helping Neighbors – It's Just How We Do On Topsail Island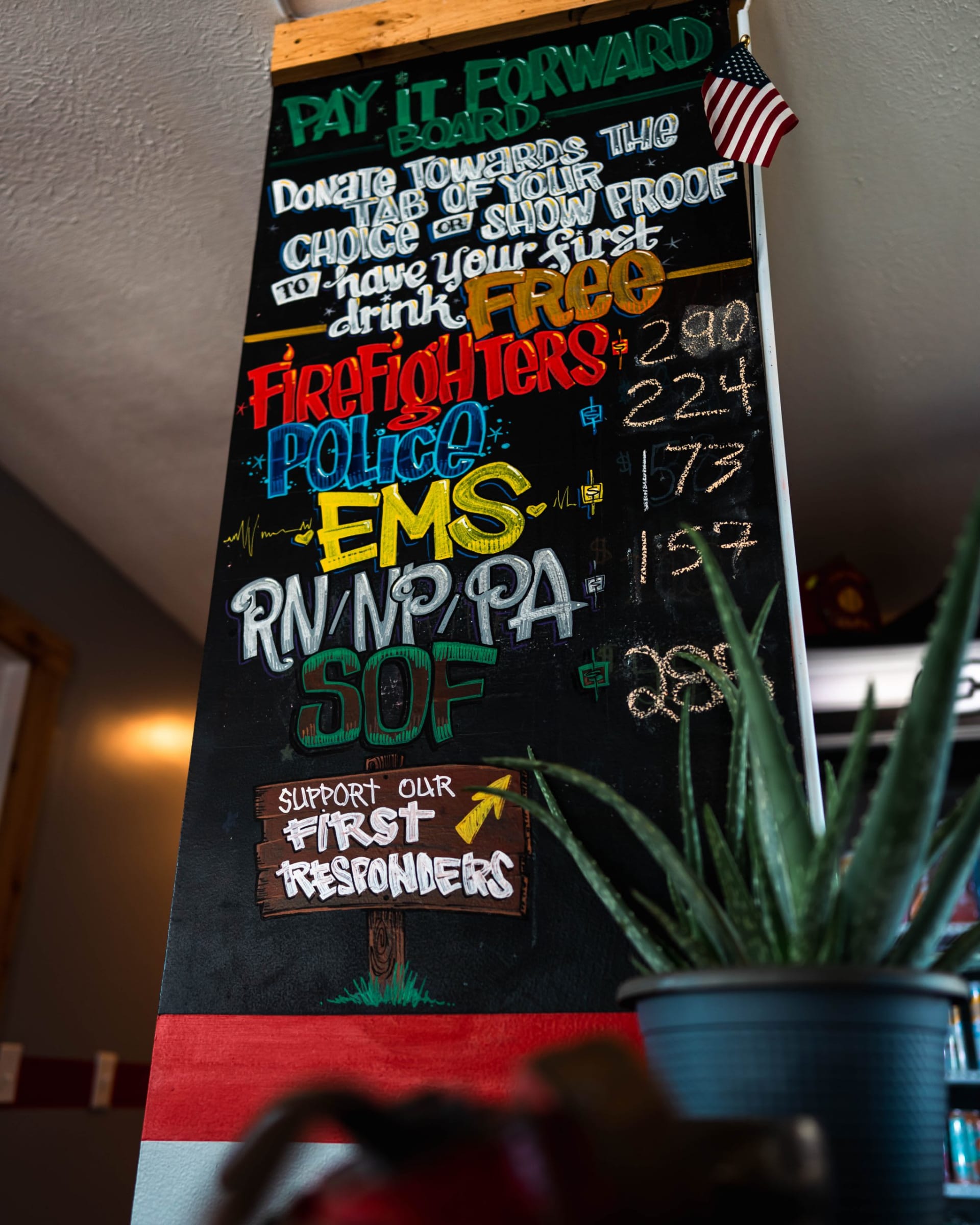 Patrons can leave a tip toward the tabs of local first responders.
Buddy's and Scallywags are just two of the many generous establishments located in the Topsail Island area. Our community is one of giving and supporting our neighbors. If you choose to live in one of our wonderful communities, you will be warmly welcomed. Get ready, because that welcome often involves a warm hug and an invitation to an oyster roast in someone's backyard!