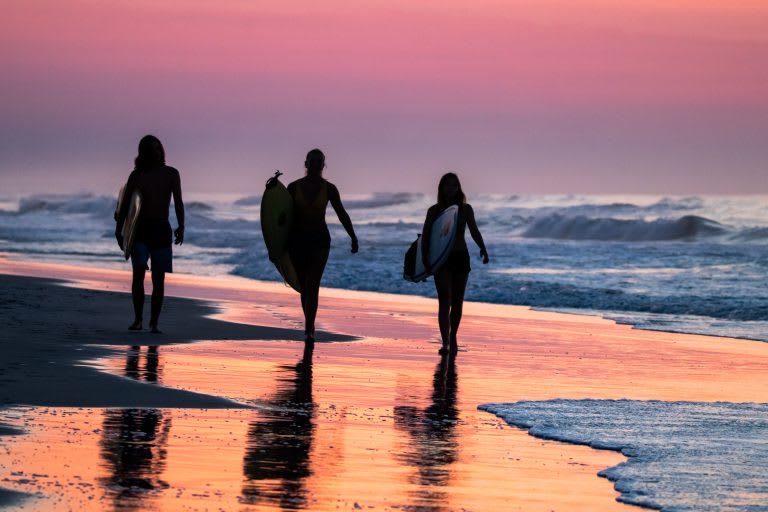 Surfing Along Topsail Island Is A Lifestyle – Longboarding Is A Tradition
Surfing is a lifestyle. It's a way to commune with the ocean and a way to give back to the community. That is definitely the case with the close-knit group of surfers inappropriately named Surf City on Topsail Island.

Cory Sydes launched the Topsail Island Longboard Association (TILA) in 2017, partly because when he was a kid growing up in this area, he always "wished there was a surf club." As an adult, he sees the challenges kids face today, including opioids and mental health concerns, and wanted to do something to "be available to the younger generation."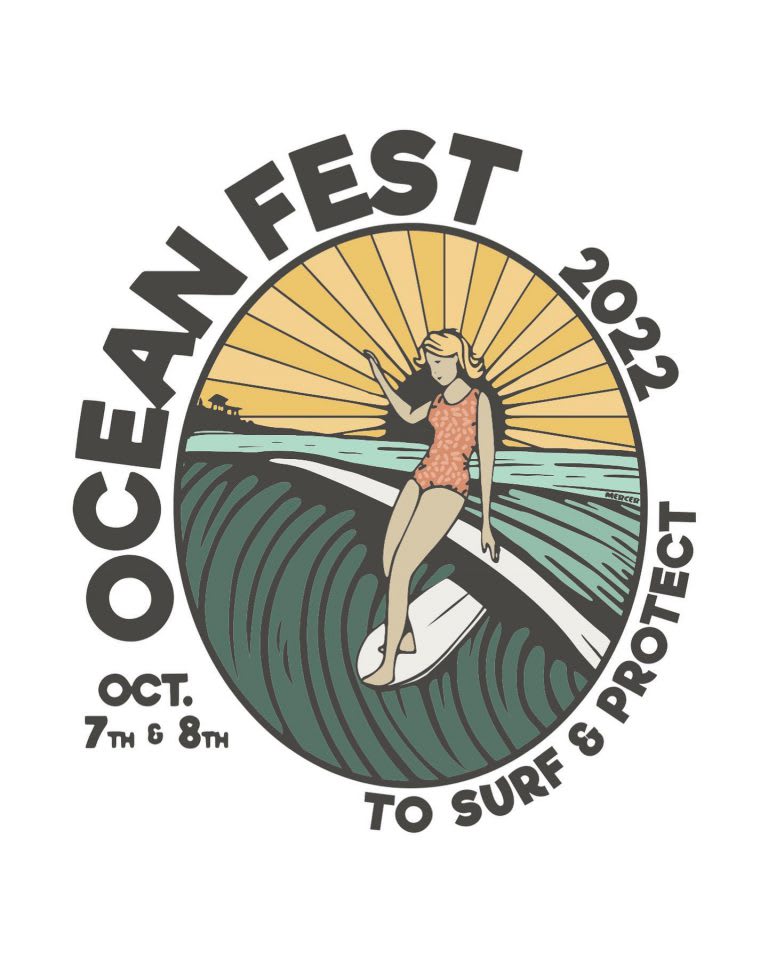 One of the main goals of TILA, a non-profit organization, is to "make an impact on the community," Sydes emphasizes. Beyond surfing, their main activity is their weekly Beach Sweep, an initiative Sydes established in his first year as TILA president after reading a story about a straw that had become stuck in a turtle's nose.
When the group first started cleaning the beach, they did it every day for 17 straight weeks and covered the entire island. They picked up "unbelievable stuff off the beach, filling the gazebo every day with coolers, chairs, tents, things you wouldn't notice until you start cleaning it."
Today, TILA members and anyone else interested in helping meet every Monday morning at 8 am to pick up trash and other items north and south of the Roland Avenue access in Surf City. In one day recently, Sydes says, they "probably picked up 500 cigarette butts." They keep their supplies at Buddy's Crab House & Oyster Bar and, Sydes says, it is "not uncommon for individual members to clean the beach throughout the week."
Sydes and the members of the TILA have a "vision to help the next generation of surfers, the young men and women that impact the environment and are engaged in water activities here." To that end, the organization has been raising money to provide scholarships to local high school students. This year, they're first for the program, they provided $8,300 in scholarships to four students at three area schools – Topsail, Dixon, and Jacksonville High.
TILA member Russ Lindsey, who oversees the organization's marketing and sponsorships, emphasizes that their goal is to "give back to the community." He says that while they do have some members who are competitive surfers, the focus of the group is "mostly just the comradery of surfing together and having like goals of keeping the ocean healthy and keeping the beaches clean."
Lindsey has retired from competitive surfing himself and only competes in benefit contests now. He describes surfing as "more of a lifestyle than a sport that you do occasionally." He adds that "we're out there communing with the ocean as we're surfing on the waves." Growing up in California, he has surfed throughout his adult life, even though he spent part of that life inland. He says that "It's something I've never been far away from, mentally never far even when living inland."
Retiring in 2016, Lindsey moved to Surf City and resumed surfing regularly. In 2017, he joined the newly formed TILA, a group he describes as an "ocean-friendly organization." Lindsey explains that the longboard, "the 9 to 10-foot range, is the traditional style of how surfing evolved from very long surfboards." Boards became shorter in the late 1960s and early 1970s but then in the late 1970s longboard re-entered the surfing scene and became very popular.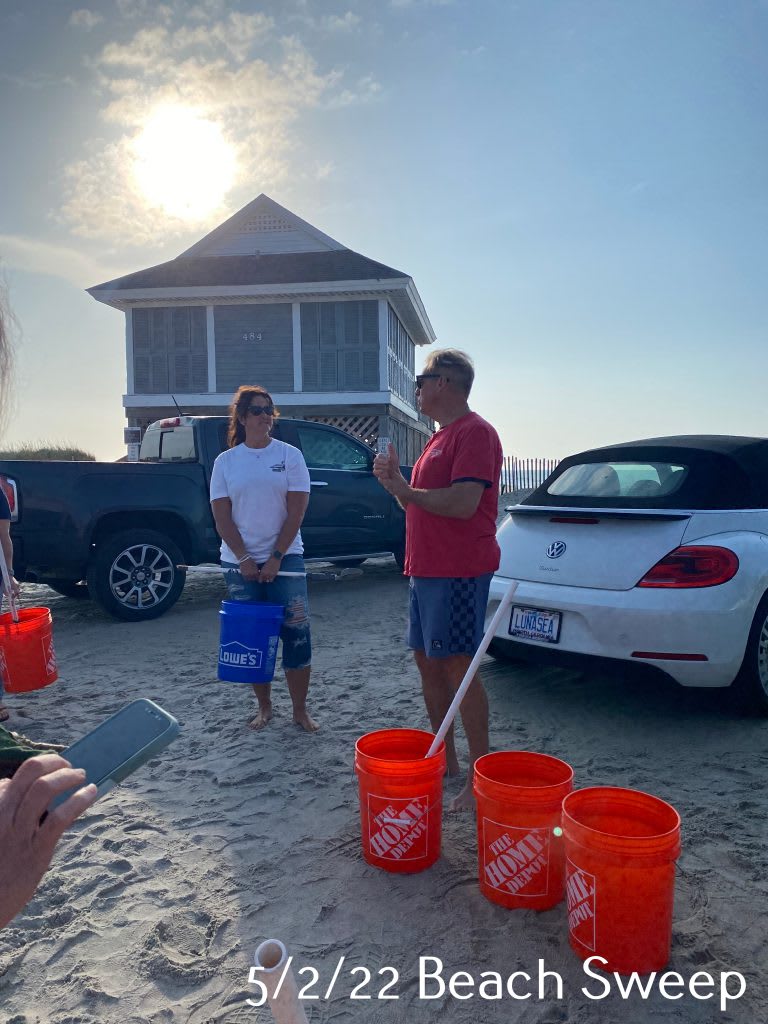 Lindsey & Treasure Staff preparing for Beach Sweep
Lindsey and Sydes agree that surfing in California is completely different. Sydes also lived in California for a brief time, although he grew up "fishing and surfing in Surf City and North Topsail." He says that off the coast of California, it's "a completely different type of wave. It's mostly wind-driven. They get larger Pacific swells and it's more consistent." Both also agree that they love the waves of Surf City and up and down Topsail Island.
Here, Sydes explains, "You have to know the wind, the tide, all the things that affect the swell direction." Lindsey adds that Topsail Island is "susceptible to swells coming from the Atlantic." The island faces southeast so "it picks up a lot of the smaller to medium size waves." There may only be about three to four hours of "good swell," so "you go out when you know it's there."
They also agree that even though there are some people in TILA and throughout the Topsail area who do compete their own focus is on the comradery that comes with just showing up and spending time with fellow surfers. Lindsey says, "It is a small town so most of the local surfers all know each other."
Sydes agrees that it's "all fun, all for recreation. We all go out there and hang out and have a good time together." He also emphasizes that they want to reach the youth in the area, to help them "know what their path looks like." He knows that when kids are struggling, they "may not talk to family but will talk to a fellow surfer."
TILA has among its 60+ members, "national champion surfers and surfers who can barely stand up." Sydes, the founder and first president who has been voted back in as the current president of the organization, rattles off the diverse membership list: "ex-master chiefs, ex-school superintendents, regular retail workers, fishermen, lifeguards, firemen, a lot of different types of people." In this group of different ages and different backgrounds, "someone will relate to that young person."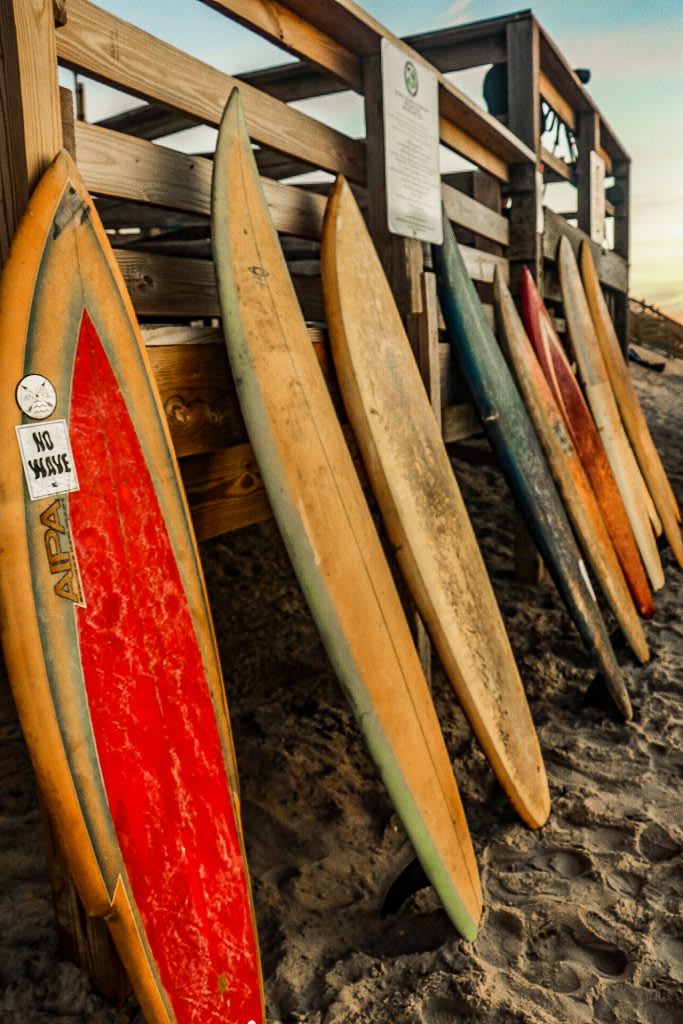 Vintage Surfboards
Active in many community events, including helping to clean up after Hurricane Florence, Sydes, Lindsey, and the rest of the TILA members believe in continuing to give back and promoting the benefits of surfing in the area. They are a sponsor for Ocean Fest, which will be held October 7-8, 2022. Ocean Fest, a large eco-friendly event held annually in Surf City, features a vintage surf contest that uses boards from the 1960s and 1970s.
Anyone can join TILA and can participate in the weekly Beach Sweep. TILA is on Facebook and Instagram and can be reached via email at
[email protected]
. Interested individuals can also just show up on Mondays at 8 am at the Roland Avenue access to enjoy fellowship with other surfers and take part in keeping the beach and the ocean clean for future surfers.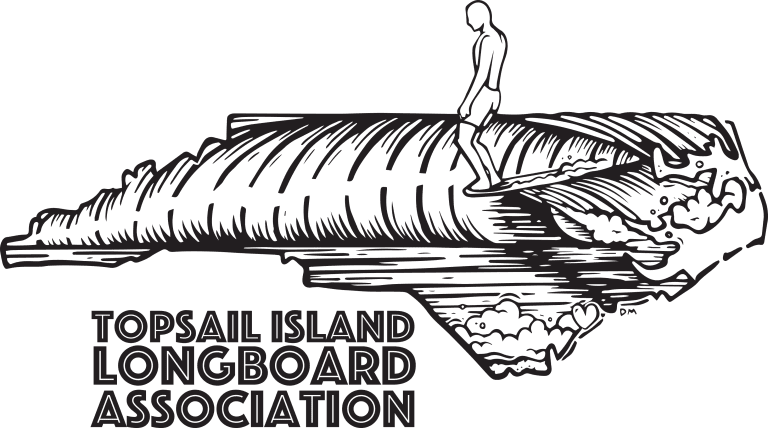 FOR MORE INFORMATION:

Topsail Island Longboard Association