Search Sneads Ferry Real Estate
Welcome to Sneads Ferry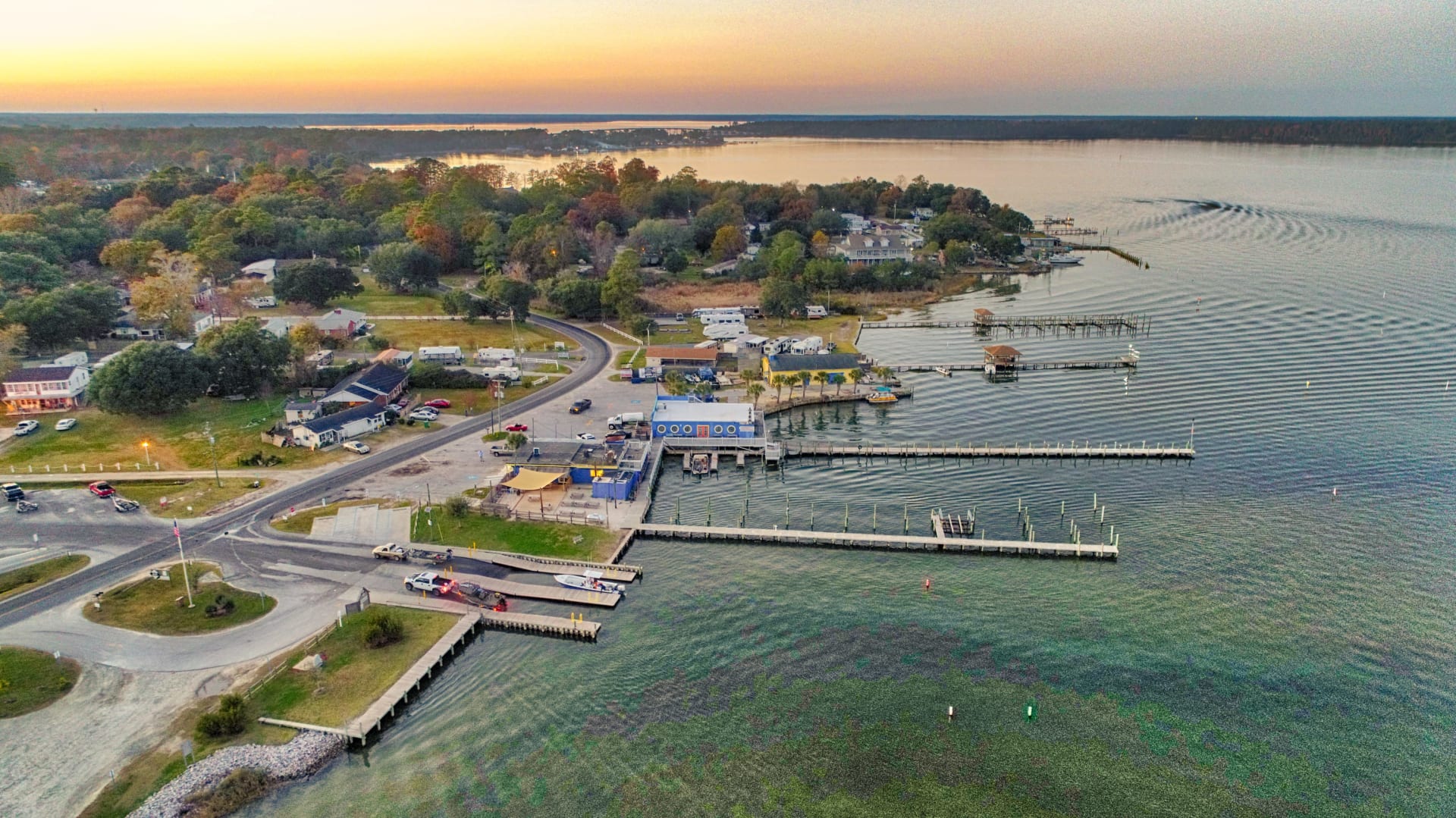 A Captivating Coastal Town
Welcome to Sneads Ferry, North Carolina, a captivating coastal town that not only boasts breathtaking scenery but also carries a rich military history, making it an exceptional place to call home for both civilians and military personnel alike.
Situated along the stunning coastline of North Carolina, Sneads Ferry offers a picturesque and tranquil setting. Its nearby pristine beaches, lush greenery, and panoramic water views provide the perfect backdrop for a laid-back and relaxed lifestyle.
One of the defining aspects of Sneads Ferry is its strong military presence. The town is proud to be near the Marine Corps Base Camp Lejeune, one of the largest Marine Corps installations in the world. Camp Lejeune plays a significant role in the area's culture and economy, with many service members and their families choosing to reside in Sneads Ferry and its neighboring communities.
The military influence in Sneads Ferry brings with it a sense of patriotism and community support. The town embraces its military residents, offering a warm and welcoming atmosphere to all. Families stationed at Camp Lejeune appreciate the convenience of living in Sneads Ferry, with a short commute to the base, access to quality schools, and a variety of recreational activities.
Beyond its military connections, Sneads Ferry is a haven for outdoor enthusiasts. Topsail Island, with its pristine beaches, offers endless opportunities for sunbathing, swimming, and water sports. The Intracoastal Waterway and New River are perfect for boating, fishing, and enjoying the area's natural beauty.
Real estate options in Sneads Ferry cater to diverse preferences and budgets. From charming cottages to spacious waterfront properties, there is a wide range of housing choices to meet the needs of military families and civilians alike. Whether you're seeking a comfortable family home or an investment property, Sneads Ferry's real estate market has something for everyone.
Living in Sneads Ferry means enjoying the best of both worlds – the tranquility of coastal living and the convenience of being close to larger cities such as Jacksonville and Wilmington. These nearby urban centers offer additional amenities, entertainment options, and medical facilities, complementing the town's appeal.
If you are a member of the military seeking a community that embraces your service and provides an excellent quality of life, or if you're looking for a charming coastal town with a rich heritage, Sneads Ferry, North Carolina, is the perfect place to call home. Let us help you find your dream property in this captivating coastal town with a strong military presence. Contact us today to explore the real estate opportunities that await you in Sneads Ferry!
Things To Do In Sneads Ferry
If you ever want something to do besides the numerous beach and water-related activities, check out the Sneads Ferry town
website
. There you'll find a list of various upcoming events in the Sneads Ferry Village Newsletter, which you can elect to have sent directly to your inbox on a weekly basis by emailing
[email protected]
. There you will find lots of announcements about local happenings. Please also check out the Sneads Ferry Village News Facebook page for instant updates on area festivals, events, and happenings.
If you're a patron of the arts, then check out the Sneads Ferry Community Theater, which performs plays and dinner/dessert shows several times during the year. Every week, the Community Center hosts bingo games, other senior activities, and outreaches to the community, so there are always opportunities to volunteer. The new Sneads Ferry Library and Environmental Education Center has regular events for kids and families as well.
There are all sorts of special events held at certain times during the year, like the annual Shrimp Festival, with its parade, ball, and pageants, and of course, the King Mackerel Tournament and the Captain's Dinner. For the golfers in the family, check out
North Shore Country Club
and the annual Topsail Area Kiwanis Golf Tournament held there. These are just a few of the things residents (and some visitors) look forward to every year. There are countless other activities available in the surrounding communities of Topsail, Surf City, Holly Ridge, and Hampstead, in addition to what's available just a short drive away in Jacksonville or Wilmington.