Our thoughts and prayers go out to any of you who are dealing directly with the virus personally or have a loved one or close friend affected by this disease.
At the same time, you might be going a bit stir-crazy being stuck at home under a stay-at-home order or having your travels restricted or limited while maintaining social distancing.
Just remember we're all in this together. This disease is impacting every person, business, and industry. But together we'll get through this. Also, we're still here for you. That means you can reach out to talk with one of our trusted local experts for anything at any time.
Maybe you're in the mood to consider a home or vacation in the future. Maybe you're in a situation where you need to buy or sell a home right now. Maybe you want to find something you rent for a while before you buy. Or maybe you own a home and want to know your options for having it professionally managed and rented as an investment or for additional income. Or maybe you're serving in the military and looking for something close to the bases that are located close to the island. Or maybe you just want to talk with someone who can help you learn more about current property values and the markets.
Whatever it is, we're here for you.
And why us? Why Treasure Realty?
People choose to work with Treasure Realty because our team is comprised of trusted local experts serving Topsail Island and its mainland communities for over 30 years now. Treasure Realty is also the number one ranked sales and vacations rental company in our area according to the Topsail Association of REALTORS®.
Achieving that level of success and reputation doesn't just happen. It requires a lot of work, resources, investments, determination, and a relentless desire to serve. It comes from a love of living and working in the Greater Topsail Island area. It comes about from a commitment to be the best and do what it takes to position us and our clients at the top with a team of professionals from agents to marketing and property management, all working together for you.
Perhaps when this pandemic is all over, you just want to escape and relax on the beach. You won't find a better place than Topsail Island where you can avoid the large crowds and enjoy a piece of the beach all to yourself. And with over 400 properties and 7000 booked vacations on average per year, Treasure Realty knows how to fit you into the vacation package that's just right for you.
So for those of you, we've never had the pleasure of working with yet, we look forward to having that opportunity. And for those of you, we have, we thank you and look forward to serving again.
In the meantime, be sure to visit and learn more about us online by going to TreasureRealty.com, or find and follow us on Facebook, Twitter, Instagram, and LinkedIn, or visit our YouTube channel where you'll be able to watch all types of real estate and lifestyle videos.
Remember, we're in this together, and we're here for you.
From all of us here at Treasure Realty, thank you, God bless, and be safe.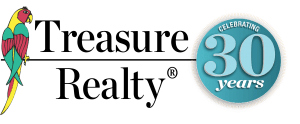 Find Your Treasure with Trusted Local Experts