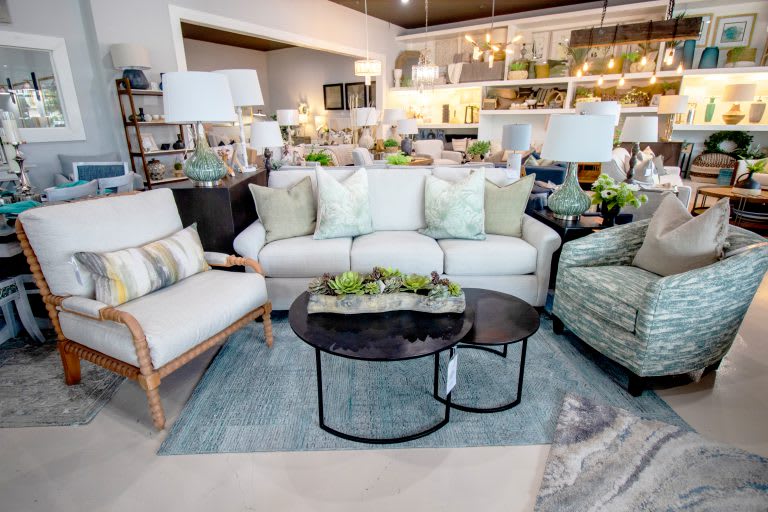 Treasure Realty's Expert Advice Doesn't End When You Sign On The Dotted Line. We Are Here To Help You With Referrals To Our Fabulous Local Designers. Here Is Some Advice From Just One Of Them
You've been dreaming and waiting and now it's finally happened – you found your own piece of paradise at the beach. Whether it's your full-time home, a second home, or an investment property –it's time to decorate! I sat down with Joni Hitchens, design manager of the newest home furnishing and design store in the area, linen, and Leather Interiors. Here's what I wanted to know:
Should I Hire a Decorator?
If you're anything like me, my vision of working with an interior designer comes straight out of the movies. Something strictly for movie stars, or the wealthy folks with more money than time or creativity. But Joni tells me that working with a designer is for anyone and, here's the best part, while you can hire them for an hourly rate for just a few hours to help you select paint and tile to match your current furnishings, it won't cost you a thing to use their services if you are buying furnishings from Linen & Leather Interiors.
Joni, with more than 30 years in the business, says that design is the passion of all her staff, and each one comes with a degree in design, but that service is the heart and soul of their business. It's what will keep clients coming back for years.
How Does it Work?
One of the talented designers meets with a new client and starts with the basics: budget, vision, timeline, and lifestyle. They will spend time with you finding out what you love, what you long for, what you cannot do without, what you absolutely don't want, and where you might be flexible. They ask about your lifestyle – do you have pets and/or children? Do you work from home? Is your husband apt to leave his drill sitting on the side table? Is this a rental property or your private home?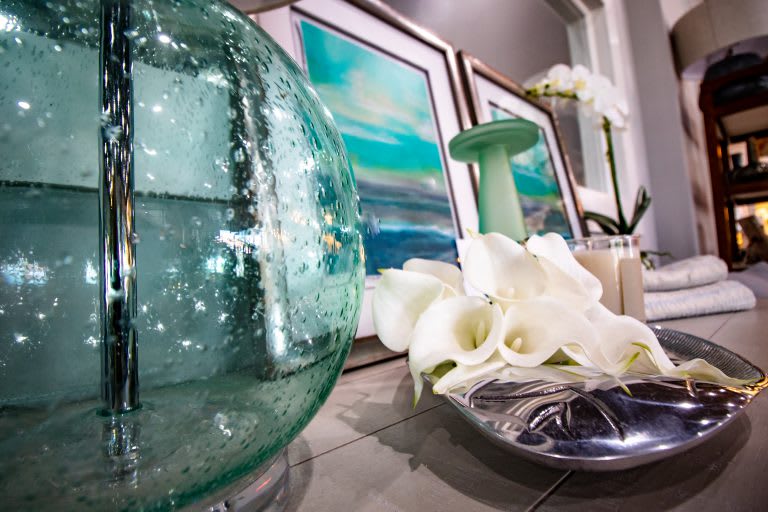 Next, they will visit your home to photograph and measure not only the space to be furnished but also your entryways, stairways, doorways, etc. The goal is to ensure that when you find something you love it will actually fit up that narrow twisty stairway and through the bedroom door!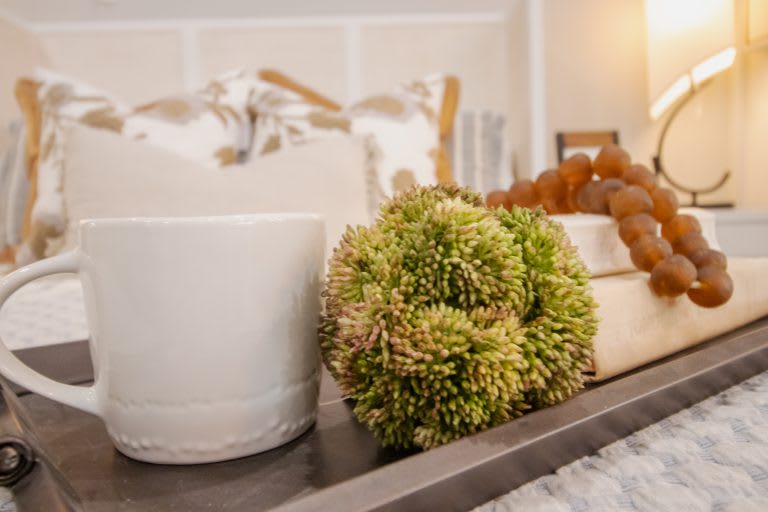 Then you'll go into detail about your budget. If you've been into the store or seen their social media posts, there may be a misconception that their furnishings are out of your price range because everything looks so gorgeous. But Hitchens is quick to give me a tour of the floor where she points out several amazing sofas in the $1500 range, and then all the way to the most beautiful $14,000 sofa specimen I've ever seen. There are options at every price point, but everything is selected for the quality and durability that their clients demand. The designer will walk through what your vision is for the space and start with the piece that will have the most impact. Then working from there, they will pull together a few design options and get your feedback.
Part of the design process is evaluating your lifestyle. This impacts the type of fabrics and materials for each piece. Have kids, or pets, or your home is a rental property and you worry that the beautiful cream fabric won't hold up? No problem – they carry the North Carolina-based Revolution line. The fabric is made from recycled water bottles and can literally be hosed off. Any slipcovered pieces can be tossed into the washer and placed damp back onto cushions, drying in time for your next guests' arrival. This line is all NC sourced, from the wood (grown in NC) to the fabric (milled in NC) to the upholstering (made in NC), which keeps shipping costs down and inventory more plentiful.
I Want to Keep My Old Stuff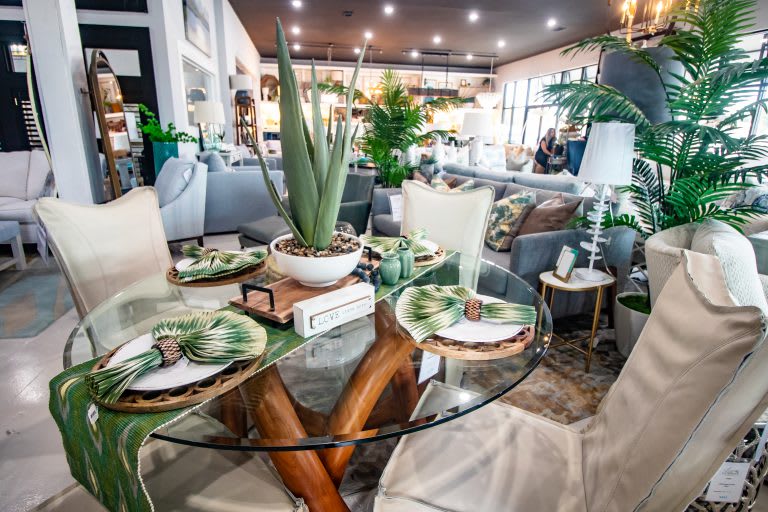 Many people move from other areas to the coastal region. What worked for their home in the Midwest might not feel right here near the beach. Often beach area homes come furnished. Now you have the dilemma of mixing your furnishings with someone else's selections. Sometimes it works, but sometimes it doesn't. Don't despair! Many pieces can be either reupholstered or updated with pillows and accessories to blend in with any new purchases. The designer can help you evaluate your current inventory and find ways to work your favorite pieces in with a more coastal aesthetic. Then, what doesn't work can be sold or donated to your favorite charities, or one of the many great charities here in our area, like Safe Haven in Hampstead. An organization that provides food, clothing, shelter, services, and referrals to victims of domestic violence.
But I Can't Do It All At Once
Oni says they will help you build a metaphorical pie and tackle one piece at a time. They will go through the process of photographing, measuring, inventorying, and designing the entire project. Then, starting with the space you need updated first, get to work. This way you have a master plan, and you can be confident that you will love the finished project. No matter how long it takes to get there.
Who Is Your Typical Client?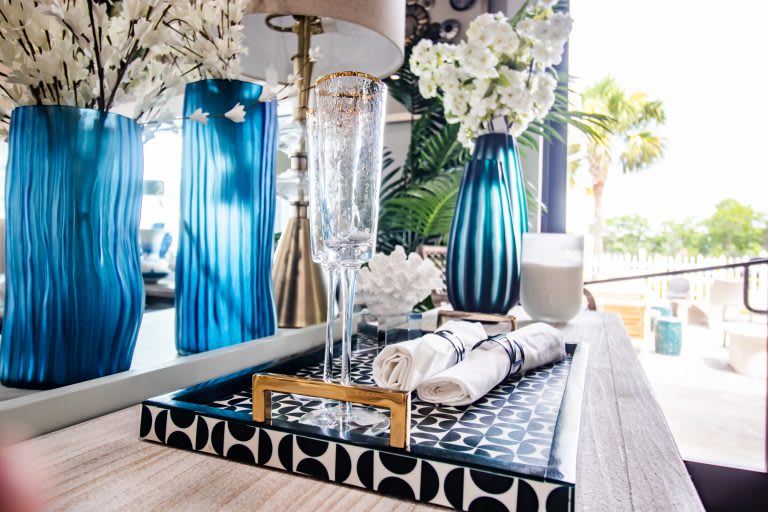 There are three main types of clients: The Unemotionally Attached Homeowner – typically an investment property; the Part-Time Homeowner – a second home for use by family and friends only; and the Full Time-Emotionally Attached Homeowner – many things have sentimental value, and the home must be practically designed with plenty of storage and comfortable furnishings. Each type runs the full range of budgets and needs. Joni herself has clients that have followed her from other design companies and for one client she's decorated five of their homes from top to bottom. "It's all about building a relationship. That, and providing the best service with the least amount of stress."
Need More Reasons?
Saves you time – you won't have to visit several stores to compare prices and inventory. Linen and Leather Interiors has inventory in stock and can arrange same or soon-day delivery.

Saves you money – have you ever bought a piece of furniture only to have the delivery truck drop it in your driveway and say, "Good luck getting that upstairs…" Me too. Linen and Leather Interiors ensure each piece will fit where it belongs and fits through all the doors. They deliver and install every item, right down to drapes and shower curtains.

Designers know what's out there and where to find it for the best price, they know the suppliers.

All their time, design experience, know-how, and advice are free when you work with them to furnish and accessorize your home.

Less stress – by providing you with several well-thought-out design options, a designer can eliminate the overwhelming clutter of every color, fabric, style, and accessory and pare it down to what you've already identified as what you love. No need to be distracted by that glittery disco ball chandelier in the corner!
Last Words:
As I sat with Joni on one of the many comfortable sectionals on the floor, feeling like I was relaxing in the luxury home of my new best friend, she said:
"You asked me at the beginning 'Why work with a designer?' but I really think you should be asking 'Why wouldn't you work with a designer?'" Joni Hitchens
Well, exactly.