Swing Away NC Offers Baseball and Golf – Indoors!
One thing that is certain about North Carolina is that the weather is never certain. As Rookie Davis, founder and owner of Swing Away NC in Sneads Ferry, describes it, "One day it can be the 60s and raining and the next it can be 150 degrees."
Swing Away NC offers a batting cage and a golf simulator that allows customers to play a full 18 rounds of golf on their favorite course, all indoors.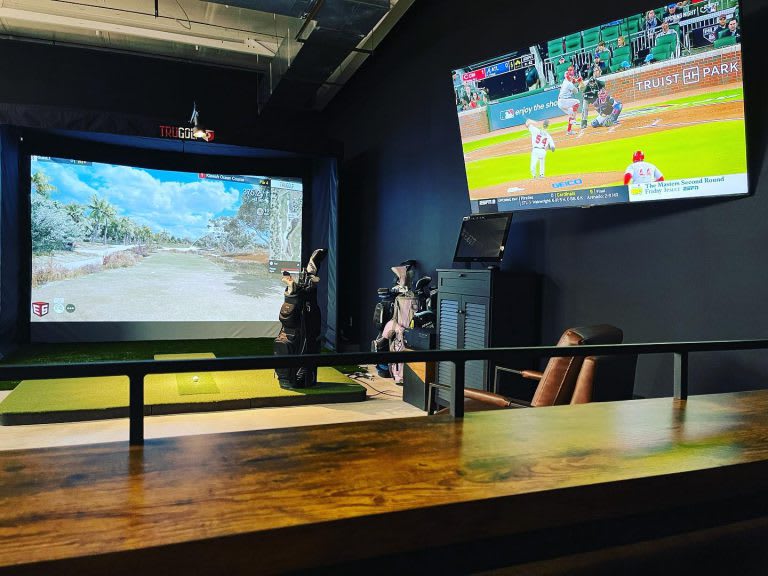 In the batting cage, a batter can swing away in their favorite MLB park. Using the latest in state-of-the-art technology, the batting cage features the HitTrax Gen 3 baseball simulator. Davis says, "Everyone wants to hit the ball and know how far it went." The HitTrax technology gives them that, "helps them get a visual on it."
In the top-of-the-line indoor batting cage, a pitching machine is set up, "just like any outdoor batting cage," Davis explains. With the HitTrax, the sensors and camera pick up the ball off the bat. It will calculate exit velocity and launch angle, tell the batter whether it was a base hit or an out, and show how far the ball went on their favorite baseball field.
Davis says that the batting cage is "great for leisure activity. You can go in and have a great time with family or your buddies." He adds that it "can also be used as a training method."
Baseball training is something Davis has a lot of experience with, both in his own career and in his Jacksonville-based training academy. He was born and raised in Sneads Ferry, attended Dixon High School, and then committed to play for East Carolina University. However, he was drafted by the New York Yankees in the 14th round. They negotiated all summer and he "signed with them at the deadline."
His pitching career included a stint with the Yankees from 2011 to 2015, then with the Cincinnati Reds from 2016 to 2018. He signed as a free agent with the Pittsburgh Pirates in 2019. Even though his career was cut short due to injuries, he is still grateful for achieving his lifelong dream of "putting on a big league uniform and playing in a major league stadium."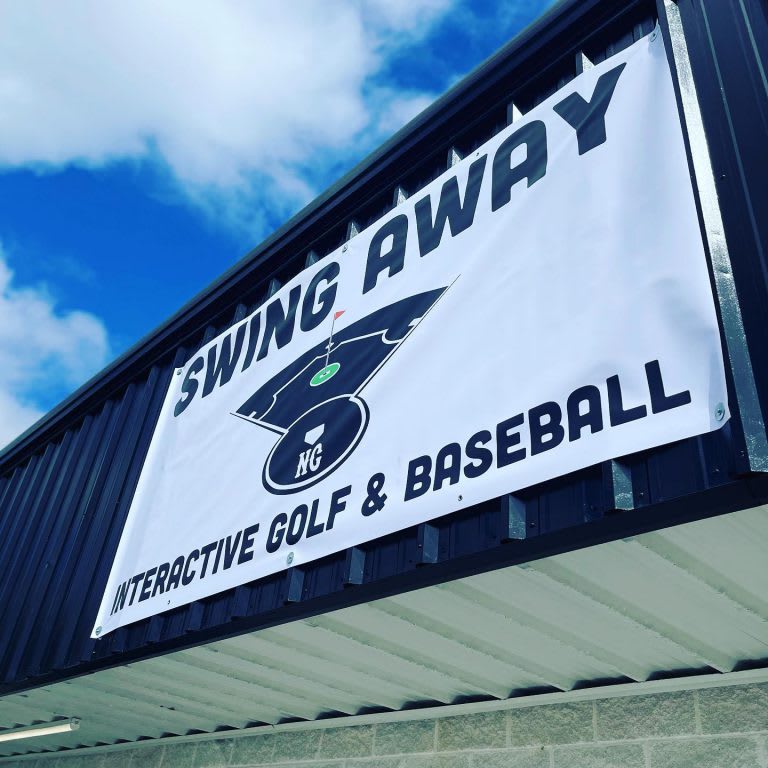 Davis adds that he is "grateful and humble for everyone who helped me throughout my childhood and teenage years." He is now shifting his focus to helping other kids so they can work toward achieving what they want. Davis Academy, an indoor baseball and softball academy in Jacksonville, is part of that focus.
The idea for Swing Away NC was partially borne out of a recognition that there needed to be a recreational activity in the area that was not weather-dependent. Davis says he took the knowledge he had gained from the Academy, along with picking the brains of some personal connections, and came up with the concept for Swing Away. He says he "wanted it to be a place for kids and families to go, whether they are local or on vacation, and have a good time."
For golfers, Swing Away offers the ability to play a full 18 holes out of the elements. Again, Davis cites the fact that it could be rainy or windy and not a good day to play golf outside, but the indoor golf simulator has everything the golfer would need for an enjoyable day.
Golf is a relatively new sport for Davis, who did not play until he was about 20 years old. Now, he absolutely loves the sport. He says he "loved to hit balls as hard as I could" on the local driving range. He adds that "there is a lot of good golf in this area."
The golf simulator, the TruGolf Vista 12 Pro, is similar to the HitTrax. Swing Away has over 120 courses in the database so golfers are able to choose their favorite course. They can play 18 holes, go on the driving range, or play some interactive games.
Davis says it's "very fun and competitive for the experienced golfer." Simulators on the floor will show ball speed, distance, and spin rate. It will also show the club's face against the ball so the golfer will know whether they hit the top part or cut inside.
Kids love the golf simulator as they "can play some fun games." It's important to Davis to have a place that is family-oriented so everyone can come in and enjoy playing either sport. He says he wants "to show kids, there are sports out there you may not have access to."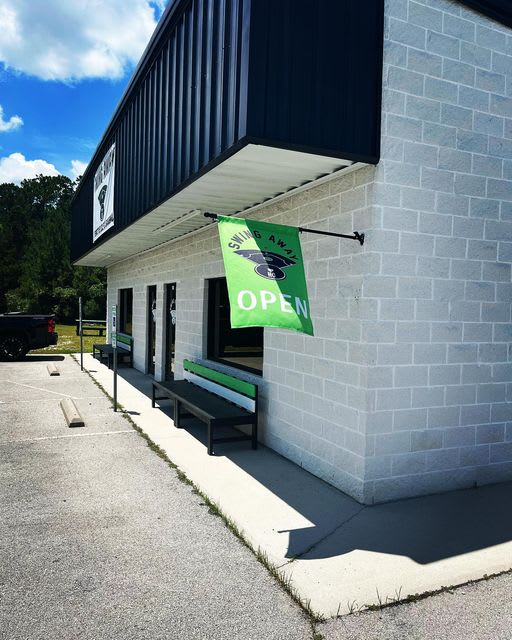 Swing Away NC plans to be involved in and host some fundraisers in the near future also. Details on those will be publicized as they become available.
Davis says that he's been told and has verified through his own research that "this is the only concept of its kind in the US. We are the only business that I'm aware of (and some folks checked into it) with a HitTrax and a TruGolf Vista golf simulator."
He is excited about the concept and the possibilities, saying "At the end of the day when you put baseball and golf together, it makes for a very fun environment." The added bonus, of course, is that the facility is air-conditioned, a major consideration in the North Carolina summer.
Walk-ins are welcome for the batting cage and golf simulator. For more info on one-on-one private baseball, softball, and golf lessons, call Swing Away NC at
(910) 465-7100
.