Topsail Beach – For the 32nd year, art and music lovers will gather in Topsail Beach, North Carolina at the Autumn with Topsail (AWT) Festival. The festival takes place, rain or shine, Oct.15 from 5 – 8:30 p.m., Oct. 16 from 8:30 a.m. – 8 p.m., and Oct. 17 from 8:30 a.m.- 4 p.m. on the grounds of the Historic Assembly Building, 720 Channel Blvd. Proceeds from the festival support the Historical Society of Topsail Island, a volunteer non-profit organization that owns and operates the Assembly Building and Missiles and More Museum.
New this year, Autumn with Topsail will expand the festival to another evening of live music, food, libations, and fun. The Friday night schedule includes The Notorious Clam Slammers who will kick off the festival with a performance from 6 – 8:30 p.m. Food trucks and the Beer & Wine tent will be open. Admission for Friday night's festivities is $5. All Friday night tickets are sold at the main gate only starting at 5 p.m. Please note the craft vendors are not open on Friday night.
Saturday and Sunday's juried art festival will feature arts and crafts from a variety of categories including oils, acrylic, charcoal, photography, ceramics, glass, metal, pottery, woodworking, leather, fiber, wool, musical instruments, jewelry, and much more. The festival selects the best art vendors for your shopping pleasure.
Live bands performing at the festival this year include:
The Notorious Clam Slammers on Friday evening from 6 – 8:30 p.m.

The Carolina Band will take the stage on Saturday at noon, followed at 5 p.m. by the North Tower Band.

The Band of Oz will perform Sunday afternoon, 1 – 4 p.m.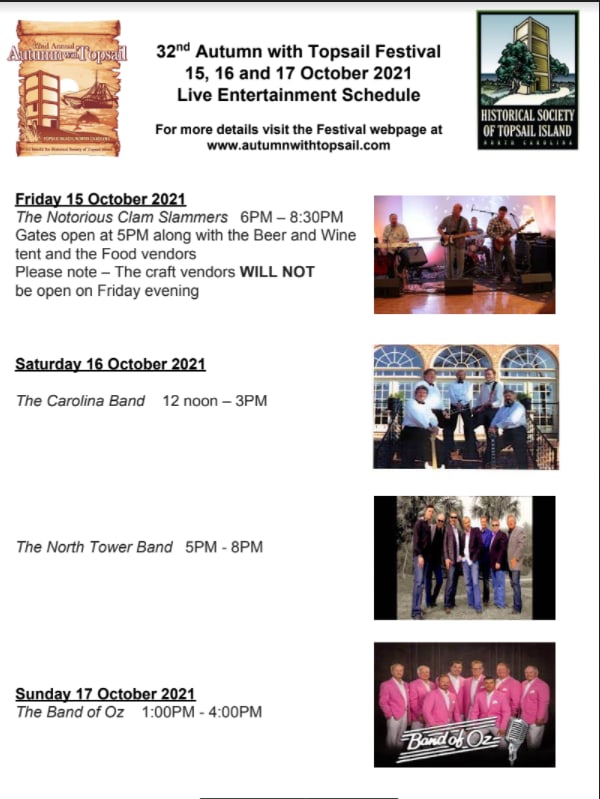 In addition to art and live music, our food court offers a large selection of local vendors cooking on the festival grounds. Snacks and sweets will be available alongside traditional options. There are always plenty of tables and chairs for diners to relax and enjoy their food along with a drink from our popular wine and beer tent!
Start your festival day off with a pancake breakfast hosted by The Kiwanis Club of Topsail Island Area from 7:30 – 10:00 a.m. on Saturday and 8 – 10 a.m. on Sunday inside the Assembly Building on the festival grounds. Pancake breakfast prices are $7 for adults and children over 12 years, $4 for children ages 6 – 11 years, and children 5 years old and under eat free with an adult-purchased breakfast.
For the kiddos, the Assembly Building will host children's arts and crafts including painted friendship rocks, pirate eye patches, mermaid tiaras, seashell "critters" and designing beaded anklets, necklaces, and bracelets. On the grounds is a bouncy town, with houses, slides, and all things bouncy for just $2 per child 12 and under.
The Assembly Building also houses the Missiles and More Museum, which will be open from 10 a.m. to 4 p.m. during the festival. Admission to the museum is free but donations are gladly accepted. For more details about the museum visit the
website
.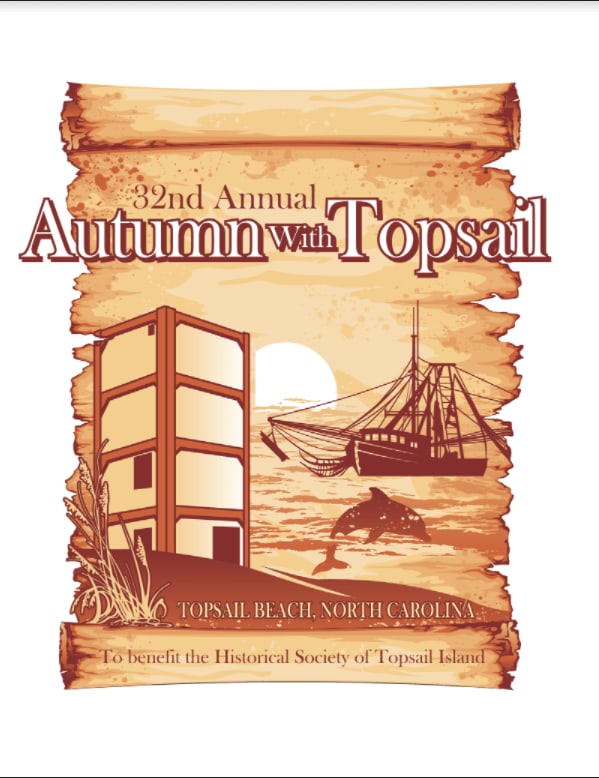 There's no need to stand in line to purchase admission tickets. New this year, purchase tickets in advance online at this
site or here.
Admission is $6 One Day adult (13+) or $10 Two Day adult (13+). Children 12 and under and active-duty military with an ID are admitted free. Coolers and weapons are prohibited. Service animals only. Shuttle buses with handicap accessibility are available from all designated AWT parking areas.