Homeowners and seasonal renters are not the only ones that love the beaches of Topsail Island.
Topsail's Treasured Turtles
Designated as a turtle sanctuary, the island is host to a number of turtle nests along its 26 miles of coastline every year from May through August.
Volunteers walk the beach each morning during the season looking for mama turtle tracks. Typically, those tracks lead to a spot in the dunes where a loggerhead sea turtle has laid an average of 120 eggs. About 60 days after the first nest appears, volunteers will start nest-sitting, waiting for babies to emerge and find their way back to the ocean.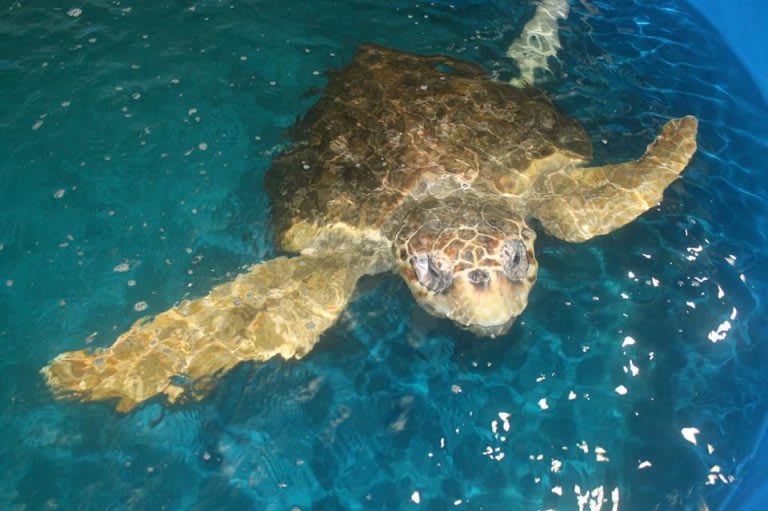 Photo shown is from the Karen Beasley Sea Turtle Rescue
The Karen Beasley Sea Turtle Rescue & Rehabilitation Center in Surf City (seaturtlehospital.org) has as its mission, "the conservation and preservation of all species of marine turtles, both in the water and on the beach." The Rescue Center explains why baby turtles need help as they emerge from their eggs and struggle to reach the sea.
Weighing in at about two ounces, their first challenge on our beach is escaping the deadly grasp of the ghost crabs. Once in the water, they must hide from both bird and fish predators, and they swim to seaweed rafts, and the Sargasso Sea begins. It is a long swim to maturity. It is estimated that 1 in 1000 survive the first year, and as few as 1 in 5,000 – 10,000 survive to adulthood.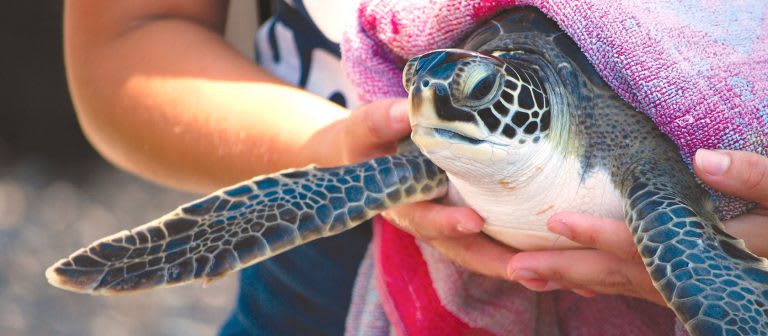 Photo shown is from the Sea Turtle Camp partnering with Karen Beasley Sea Turtle Rescue
Jean Beasley, who founded the turtle rescue center, named after her daughter, once said "Sea turtles will look you in the eye. If you get a little twinge when they do, it's because they're looking into your soul, and you're looking into theirs."
Turtles love Topsail Island. In 2019, there were 178 nests identified up and down the shoreline. There were also a lot of "false crawls," where mama turtle tracks were found but there was no nest of eggs at the end of the trail. Sometimes the mother loggerhead gets scared off, either by humans or by other animals, or she just can't find a suitable spot for her babies. She will usually return another day to find a better place to lay her eggs.

Photos from WWAY, Facebook, and Karen Beasley Sea Turtle Rescue
Topsail Island is considered to be one of the more heavily nested areas along the North Carolina coast for loggerhead and green sea turtles. Humans go out of their way to help the turtles during their nesting season. Besides walking the beaches at dawn and, for the nest-sitters, in the wee hours of the night, there are several rules about what can and cannot be done from May to August on Topsail Island.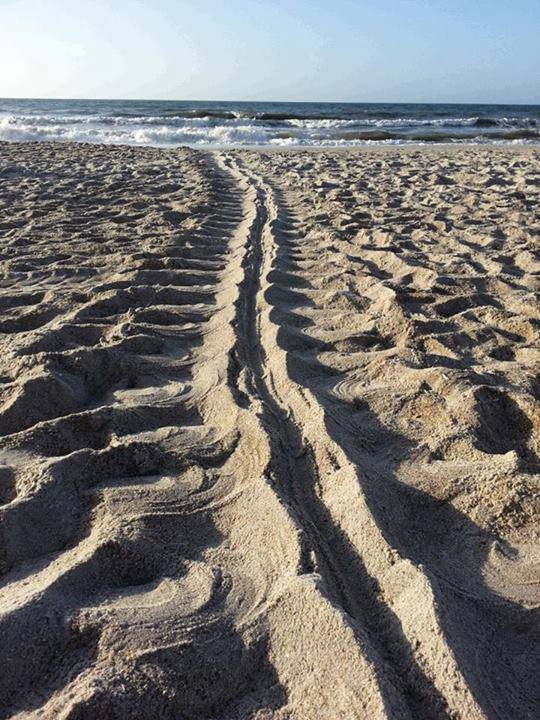 Photo shown is from the Sea Turtle Camp partnering with Karen Beasley Sea Turtle Rescue

In North Topsail Beach, all beach equipment must be set at least twenty (20) feet from any sea turtle nest. No beach equipment is to be placed seaward of a sea turtle nest for a distance of ten (10) feet north and south of a direct line between the sea turtle nest and the Atlantic Ocean.
The state of North Carolina does not permit beach nourishment work from May through November, as part of the sea turtle moratorium. In addition, beachgoers are asked to fill in any holes they or their children may dig while enjoying their day in the sun, so the mother turtle does not get caught in the hole when she comes in to lay her eggs later that night.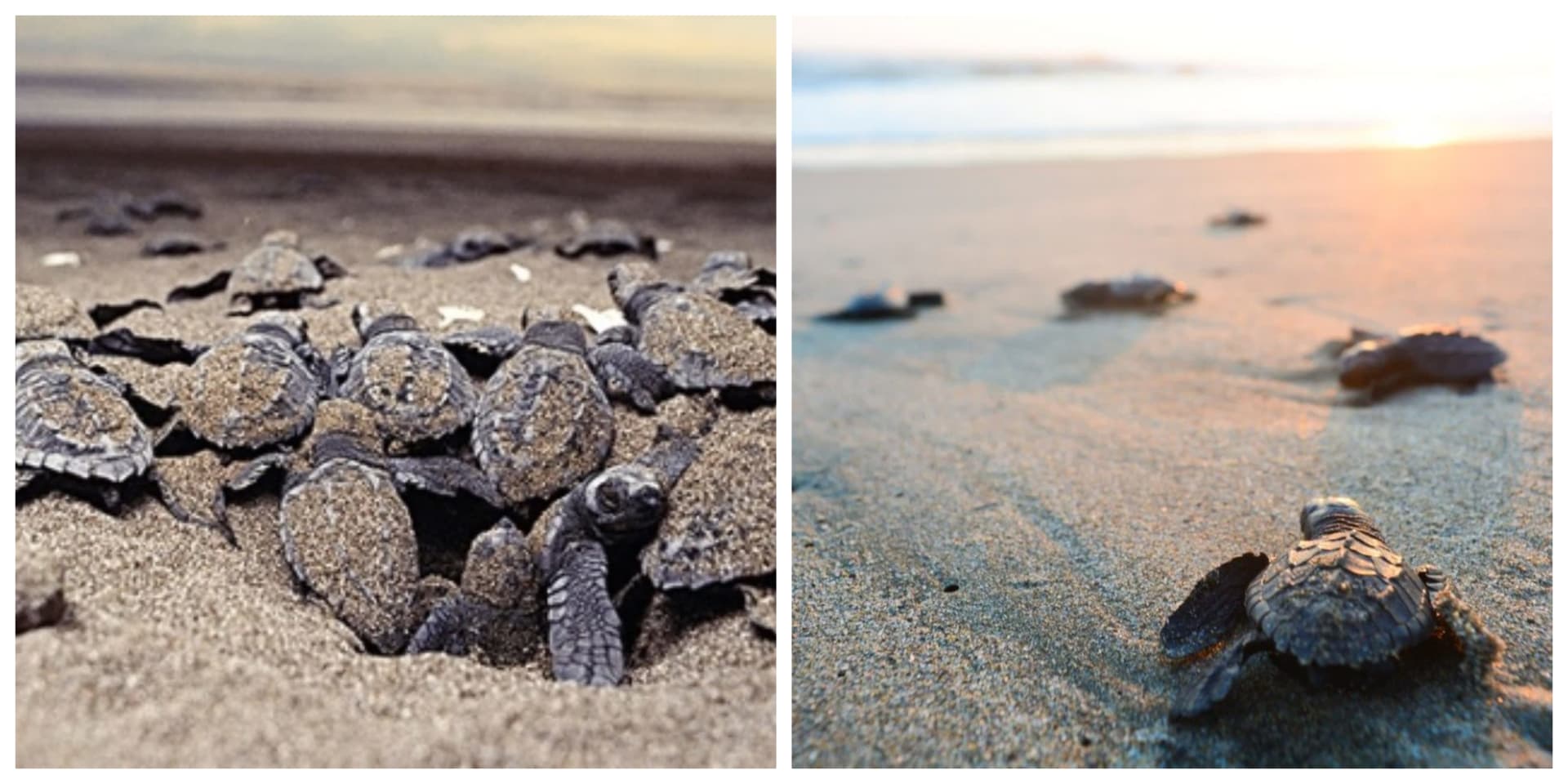 Photos shown is from the Karen Beasley Sea Turtle Rescue
Artificial lighting is also strongly discouraged along the beach side of the island at night. Baby turtles become very confused when beachfront homes have porch lights on. Likewise, flashlights and cell phone lights can be very disturbing to both the mother and her babies as they find their way along the sand at night. Our turtles are a precious treasure on Topsail Island so we want to take care of them as much as possible!