Beach Clean; A Topsail Island Shoreline Protection Commission Initiative for cleaner healthier water and shorelines.
Spreading a positive message about the value of keeping our beaches and waterways clean is the focus of an event scheduled for February 3 at the Assembly Building in Surf City. Individuals, community organization representatives, and elected officials will gather to talk about the positive steps we are now taking and what can be done going forward to ensure our beaches and waterways remain clean and protected.
Scott Franko, representing Treasure Realty and the Greater Topsail Area Chamber of Commerce, is actively participating on the planning committee for Protecting Our Beaches and Waterways. Other planning committee members include:
Tammy Proctor – Pender County Tourism Director and Topsail Chamber board member
Mike Benson – North Topsail Beach Alderman and Topsail Island Shoreline Protection Commission (TISPC) member
Steve Smith – Topsail Beach mayor and TISPC chair
Tammie Parris and Karen Burton – Topsail Chamber representatives
Kerri Allen – NC Coastal Federation Coastal Advocate
Representatives from Topsail Beach, Surf City, and North Topsail Beach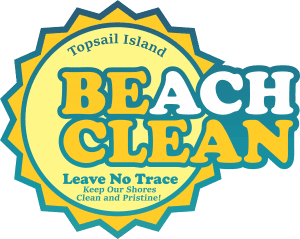 Kerri Allen is also one of the speakers featured at the event. Other speakers include Heidi Walters with Visit NC, who spearheaded the Outdoor NC development, and Kathy Zagzebski, Executive Director of the Karen Beasley Sea Turtle Rescue and Rehabilitation Center.
Tammy Proctor emphasizes that "the messaging is positive" as "all three towns, the tourism office, and the chamber office are coming together for one goal." That goal is to keep trash off the beach and out of our waterways and to share reminders about little things that can make a huge difference, such as filling in holes after a fun day at the beach with family and friends.
Participants at the February 3 event, which includes lunch for those attending in person, will include local businesses, representatives from environmental groups, construction and utility company employees, and other stakeholders in our area.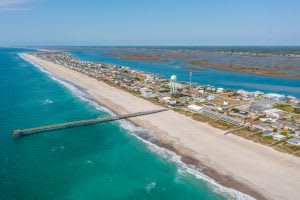 Topsail Beach Aerial
Topsail Beach Mayor Steve Smith, who spearheaded the campaign, says that one goal of the panel discussions and participant feedback at the Protecting Our Beaches and Waterways event is to "look at various ways that we can as a community and an island reduce the impact of plastics and other waste." Smith adds that another goal is to educate citizens and visitors alike.
Many of the plastics used by businesses, residents, and tourists are not recyclable, for example. Plastics are the biggest challenge on the beaches and in the waterways. From an environmental perspective, it's important to understand the impact and to take positive steps to "keep our shores clean and pristine," Smith says.
Educational activities after the February 3 event will focus on Leave No Trace, encouraging everyone in the beach communities to:
Use trash containers
Do not bring a glass to the beach
Pick up after pets
Fill in holes on the beach.
Keeping beaches and waterways clean is important for the economy as well as for the health and well-being of all our residents and visitors, including the humans and the turtles, birds, fish, and other inhabitants in our area. Proctor is thrilled with the response to Protecting Our Beaches and Waterways. She notes that in-person registration has reached 85, well beyond what was expected. In an effort to maintain appropriate health and safety measures, additional registrations will be taken for virtual participation via Zoom. For registration to participate remotely, as well as the Zoom link, contact Proctor via email at
[email protected]
.