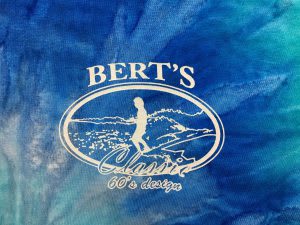 There are some things that just go together: beach towels and beach chairs, sunscreen, and sunglasses, bikinis, and cover-ups, Coronas and lime slices, sand pails and shovels, fried shrimp and cocktail sauce, beach vacays and Bert's Surf Shop…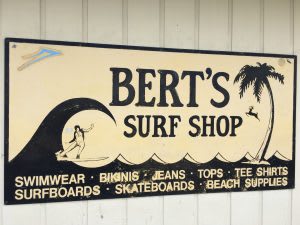 Bert's Surf Shop
?
You know it! If you're like me, you grew up taking your summer vacations and weekend getaways on one of the many pristine beaches of North or South Carolina. And there would have been no way in the world you would have left your summer paradise without purchasing some proof that you had actually been there. Even though a sunburn with peeling skin was proof enough that you had been to the beach, you needed a little something extra that would brag to your friends about your recent whereabouts. You would have to have Bert's tee shirt.
The Bert's Surf Shop empire was established in 1965 by Bertram and Gloria Pearson. Headquartered in Kinston, North Carolina, Bert's Surf Shops soon began springing up in many North Carolina beach towns, including one in Myrtle Beach, South Carolina. Today, there are seven shops still in operation, serving their beach communities name-brand beachwear, including bathing suits, wetsuits, shorts and tee shirts, and a huge selection of footwear. They also carry many brands of surfboards and skateboards plus the paraphernalia that goes along with them.
When I moved near Surf City, I was excited to discover that it had a Bert's Surf Shop (actually the first surf shop on Topsail Island, established in 1969!) When I was young, I would have given anything to live at the beach and be able to shop at Bert's anytime I wanted. I can remember, many times, after we had packed up the cars and were headed home from the beach, we'd have our parents pull into Bert's parking lot and we'd pile out of the car, with the last of our vacation money jingling in our pockets. We'd always make sure we'd have enough money to buy at least one Bert tee shirt to take home with us. We could always wear them long after our tans had faded to remind us of our great summer adventure or just to let all of our friends know that we were "cool that way."
Each year our Bert's collection grew and one day, sometime when we were in our late twenties, we realized we had not only been on many beach vacations, but we also had some vintage tee shirts. We could be anywhere; at home in eastern North Carolina, at Disney World, or at a mall in Nashville, Tennessee, and see a fellow Bert's aficionado wearing a tee shirt. Of course, that would lead to our having to stop them to ask which beach they had vacationed at or how they wound up with their Bert's tee shirt. The tee shirts would be like magnets, drawing us together like old friends, discussing our favorite vacation towns and hangouts.
Yesterday, I stopped by our local
Bert's Surf Shop in Surf City

.
I hadn't been there since last year when I bought (you guessed it) a T-shirt and bathing suit for my two-year-old granddaughter, who lives in Nashville. Since it's off-season and the store wasn't quite as busy as it is in the summer, I was able to talk to Marissa McClain and Austin Yates, the two employees who were minding the shop. I asked them if they had met the famous Bert. They told me that he still comes in the shop frequently and still had his hand in the operation of the store.
I had always wondered about "Bert." Was he a real person or just a name on the store's sign? Did he surf and open his store for others like him to provide quality items for his sport?
The answer was absolutely "yes!" Even though Bert is now in his eighties, he surfed up until five years ago, when he had to give up his beloved sport for health reasons. I was impressed with the name behind the iconic beach surf shop.
If you're on Topsail Island, do yourself a favor and check out Bert's Surf Shop in Surf City, especially if you surf or skateboard. However, if you're like me, you'll need a t-shirt or some type of beachwear that will prove you've been to the beach or (if you're vain like me) that you are still "cool." Some things just go together like Bert's Surf Shop and me!