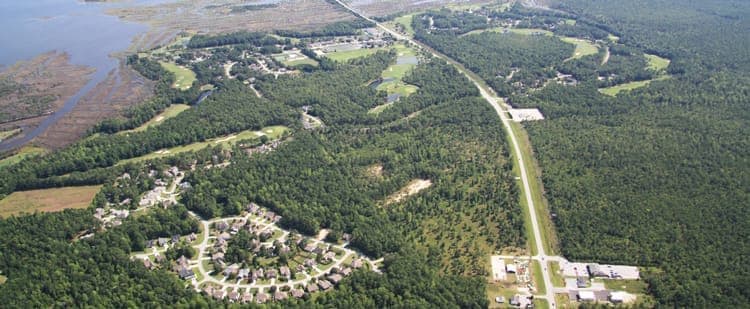 WELCOME TO NORTH SHORE COUNTRY CLUB
​​​​​​​One of the top golf course communities in the Topsail Island area is the North Shore Country Club. Nowhere else in the US will you find this level of quality and luxury in coastal golf course living at this price point. North Shore Country Club is situated at the base of the high rise bridge in Sneads Ferry. Cross the bridge, and you are in N. Topsail beach, where you can be standing on the white sandy shore of the Atlantic Ocean in just two minutes! Needless to say, real estate in North Shore Country Club is a hot commodity that tends to go quickly, so make sure you find a local agent who will be attentive to your wish list and the listings here.
One of the selling points for North Shore Country Club and real estate around the club is the beautiful, natural architecture. The course here was designed by Bob Moore, who decided to incorporate the marshlands and natural growth into the course design. The lush green course is well maintained and picturesque.
Both beginners and more accomplished players will find the course accessible and yet challenging. This is part of the North Shore Country Club's charm, and it's a big reason why residents and guests here enjoy the golf course so much.
​​​​​​​What you'll find on the course includes shore holes with prevailing sea breezes and inland holes winding through well established trees. Natural areas and man-made hazards blend seamlessly, providing for a stunning 18-holes of golf. You'll also find a different challenge each day as the winds change direction, pick up, and lay down, making the course play completely different from one day to the next.
EVENTS BY NORTH SHORE COUNTRY CLUB
Members of North Shore Country Club gain access to special events throughout the year. Such events include the annual Spring Fling Dance, Spring Fling Golf Tournament, President's Cup, Member Tournament and Cookout, and Member-Guest Weekend. You can visit the country club's
website
for more details. Memberships typically cost around $15,000, but many homes come with a membership if the buyer pays the transfer fee. Looking for a home and a membership in North Shore Country Club? We can help you with the details.
NORTH SHORE COUNTRY CLUB COMMUNITY AMENITIES
Not only do the houses in North Shore Country Club sit in the midst of a gorgeous 4-star golf course, they also come with several family friendly amenities. Homeowners and club members can utilize the community pool, tennis court, and clubhouse. Of course, club members gain access to exclusive events that take place in the clubhouse and on the course. Such events include cookouts, golf tournaments, and dances. In addition to these fun happenings, there is also a bar and grill conveniently located near the clubhouse for more good times with friends.
NORTH SHORE COUNTRY CLUB REAL ESTATE
When you know you want to live life on the green and along the coast, North Shore Country Club is the place to be! Where else can you find a course incorporating the natural beauty of the Intracoastal Waterway, local rivers and marshlands, and the Atlantic Ocean? This combination makes for some unparalleled views. The North Shore Country Club is a 4-star course, but there is more to life in North Shore than just golf.
BUYING AND SELLING IN NORTH SHORE COUNTRY CLUB
Whether you're buying or selling a home in North Shore Country Club, you need a knowledgeable, local real estate expert to look out for your best interests. Better Homes and Gardens Real Estate Treasure knows North Shore Country Club. Our agents play there often, they have friends who live there, they attend events there, and they are up-to-date on listings in the community. With all of that in mind, why not let us help you find your dream home?

​​​​​​​If you are searching for a new home in the North Shore Country Club community, we will help you find the listing you've been dreaming about. If you're selling, we have the talent, dedication and experience to market your property to the right buyer at the right price, so that it sells quickly. Earning your trust and confidence is our main goal, so give us a call today, and let us get started making your real estate dreams come true!